All You Ever Wanted To Know About Nutrisystem
While it may be a simple enough process to sign up with a popular diet food delivery company like Nutrisystem, there are several considerations that need to be taken into account before you can sit back and happily relax with your diet and start the weight loss process in earnest.

One of these considerations is the actual cost of any particular Nutrisystem diet plan.

And that is not just in terms of money but the overall cost in terms of success measured in the amount of weight lost per dollar of investment in the diet.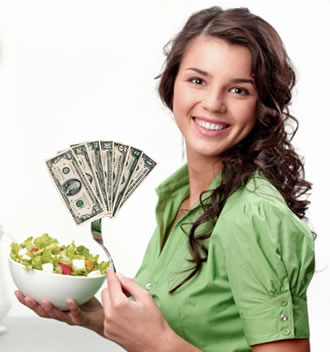 Now most people wouldn't go so far as to feel the need to calculate the cost to such a degree, but there are some that feel they can better gauge the success of their diet by the amount of weight they lost in pounds against the amount of money they spent on the program.

This is one way of gaging that cost in real terms.

There is little in this life that is as satisfying as seeing measurable results that are being shown you on a set of bathroom scales. Likewise, it's pretty easy to see how appreciative one can be when trying on a new dress or a new suit that is several sizes smaller than you would have done before you started the diet.
The Price Tag
But the most important figure that most would-be customers are interested in is the hard and countable money cost of signing up with Nutrisystem! This is the price tag you see when you go to the check-out and it's this cost that can make some people take a sharp intake of breath. That's because they're having to pay for a full month of food in one payment, which makes it look a lot worse than it really is.

Better to break that cost down into a daily figure, which at the current price (at the time of publication/latest update) works out to be as little as around $10 a day. Considering most people will be using a credit card to make this payment, the cost can be spread out over a greater time period too.
The Daily Cost of Nutrisystem to the Customer
When you really want to know before you jump in with this program is what it is actually going to set you back in terms of hard cash or a credit card bill for each month that you are doing it.

If you need an up-to-date breakdown of the current prices that are charged by the company for their different 28-day plans, you can check out this chart I have published in a separate article here on this site by clicking this link:

Cost Table of Nutrisystem Diet Plans

So now you can see at a glance what you will need to set aside as funds to pay for the diet for yourself each four week period. I want to reiterate the very important point that these prices are advertised on the official Nutrisystem website as those charged when you opt for auto-delivery of their diet meals, except for those in the column marked "Full Retail".

You can of course choose not to take part in this convenient aspect of the program, but then you will have to pay the full price (these Full Retail prices are included in the table above). The reason for the discounted auto-delivery pricetag is that it is easier and less administrative work for the company, plus there is more incentive for the customer to remain on the program for longer than a month.

I expand on the subject of the Nutrisystem cost per month in that article including the at-a-glance price table above.
Making Sense of It All
There is of course a variable that must also be taken into account if undertaking such a calculation. That is the amount you must offset against the purchase cost of the diet from the money that you save by not buying any food groceries for the full period of the program.

This is because, as you'll see from our own Nutrisystem Reviews article, the program provides all the food you should need for four weeks of dieting. And often, the cost of regular food for that period will be enough to equal and displace the cost of the diet.

This means that any calculations on the cost of the diet become moot as there is actually zero additional cost in the end!

That's really good news for anyone considering this program as their preferred weight loss strategy. It means not only is it convenient, simple and highly effective, it's also very affordable in real terms. Now they are some very good reasons to choose this program!


Disclosure: Advertisement paid by Nutrisystem

Imagine... how great you are going to feel losing weight this easily...
The Cost Factor Discussed
One of the many reasons that a lot of people don't take up a propriety diet plan such as that provided by some of the bigger diet companies like Nutrisystem is that they are worried that it might be too expensive. In reality, this is not necessarily the case as some diets can actually work out to be no more costly than your regular food bill, especially if you are used to buying processed foods from supermarket stores.

This is also the case with the Nutrisystem's diet plans, because they deliver your entire month supply of food to you so you don't have to go out and buy any groceries for that period. The money you would save on not buying those groceries can be deducted from the cost of the diet plan to arrive at a more realistic figure for the actual price. believe it or not, in many cases that can even work out cheaper than buying regular food groceries for yourself.

Imagine that! You can lose weight in one of the most convenient ways there is just by signing up with Nutrisystem for men or women and trying out one of their really popular and highly successful weight loss diets and you can even save money while you are about it!